Frightful (and Delightful) Costume Inspiration for Yokai Weekend
Halloween (and Yokai Family Weekend at Shofuso) are just around the corner! This slightly-spooky weekend will feature a range of family friendly activities, from kamishibai paper stories, spirit-themed crafts, a scavenger hunt, and a photo booth. All attendees who arrive in costumes inspired by their favorite yokai will receive $2 off.
At a loss of what to wear? Here are our suggestions for some frightful (and delightful) yokai costumes.
Oni: Ogres and Demons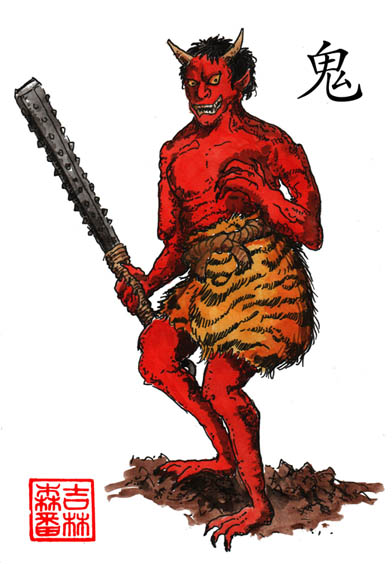 Oni are one the greatest icons of Japanese folklore.These monstrous ogres are large and scary, and are usually depicted with red or blue skin, wild hair, horns, and fang-like tusks. They wear loincloths made of the pelts of tigers, wolves, and bears, and carry iron clubs to mete out punishment. All oni possess extreme strength and constitution, and many of them are also magical.
To dress as an oni, make (or buy) a red monster mask and wear a red bodysuit to recreate these frightening foes' skin tones. Pair with tiger-print shorts, an iron club, and a wild black wig. Fierce!
Bakemono (Transforming Trickster Animals)
Japanese folklore is filled with trickster animals. Kitsune (foxes), bakeneko (cats), tanuki (raccoon dogs), and kawauso (river otters) gain the ability to shape-shift as they grow older. Though their actions range from mischief to malevolence, these animals are beloved as both the protagonists of tales — and for being cute!
Transform into a trickster animal by donning a kigurumi costume pajama, or pair a traditional mask with a kimono or yukata to channel mythical characters like Kuzunoha (shown above).
Tsukumogami (Haunted Objects)
Tsukumogami translates to "tool kami," and the word refers to items which have lived for 100 years and have acquired a spirit. Though some tsukumogami are malevolent and can cause humans real harm, others simply enjoy spooking humans. The karakasa-kozo (umbrella ghost) and chochin-obake (lantern ghost) are two more comedic yokai, often depicted scaring humans by rolling their eyes and licking with their tongues.
Create your own tsukumogami puppet by adding wiggle eyes and a tongue to a paper lantern or a parasol. Channel  it at the end of fishing line for a ghostly effect!
Yurei (Ghosts)
Ghosts in Japanese folklore have been popularized in recent years by movies including The Ring and The Grudge. Traditionally, they wear white burial kimonos and headbands with long, disheveled hair. Depending on how they died, they may be gory or bloodless. Yurei interact with the living world in a wide range of ways, from creating phantom lights and sounds to invoking powerful curses. They exist only to haunt, and remain "stuck" until they can be put to rest.
Dress as a yurei by wearing a white robe or yukata, a headband fashioned from a white bandana, and a long black wig. A strand of LED powered lights in blue, worn under the robe, adds a ghostly glow.
(Alternately, buy a premade yurei costume on Amazon.)
Need more inspiration for Halloween costumes? Check out Yokai.com, an encyclopedia of monsters, ghosts, and cryptids created by JASGP's Matthew Meyer.